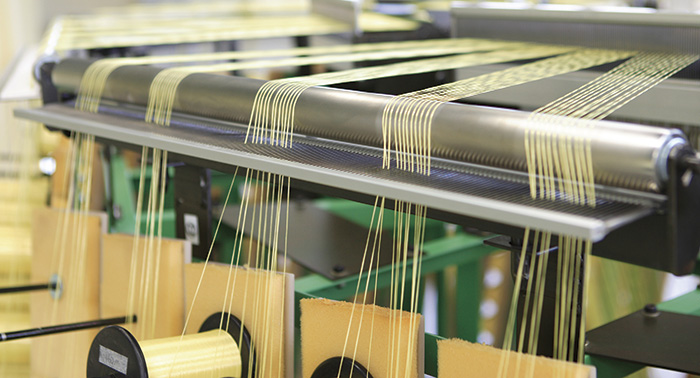 Tetras®, new leading technology of tetra axis construction improves the tear strength and dimensional stability of fabric in all directions. MEIDAI Co. Ltd. developed the sensational world's first mass-production multi(tetra)-axial loom in 2000. Tetras®, it's high quality and flexibility has unlimited potential in progressing highly-technological society.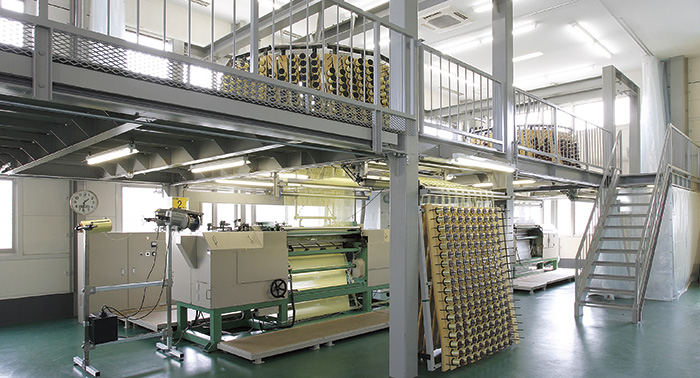 Tetra-axial® fabrics that surprised the world
After twenty years of development MEIDAI Co. Ltd. finally succeeded in manufacturing tetra-axial fabrics "Tetras®" for the first time in the world. This gave a great impact not only on the Japanese industrial sectors but also on those in the world. The conventional fabrics were constituted simply by bi-axial warp and woof, but Tetras® had two more threads diagonally cross-woven, which no one had ever succeeded. This dream tetra-axial fabrics achieved unrivaled measurement stability and tear strength. This epoch-making textile technology has found a possibility not only in the sphere of industrial materials such as concrete reinforcing agents but also in the fields of aerospace industry, sports and leisure industry, apparel industry, clothes for self-protection, car manufacturing industry, etc. Especially, the tetra-axial fabrics made of super fibres such as carbon fibre or Aramid fibre has been the focus of attention because of its high level of strength. MEIDAI will continue providing the market with superior products, keeping in mind the motto of development that goes "high value added approach with small amount of production for each product of many kinds."
Contributing to all kinds of industries through technology
MEIDAI Co. Ltd., a leading company of industrial material and all kinds of fabrics has supplied products suitable for all sorts of use in the market. In the year 1979 the trademark of "LOCKSLING®", the series product of industrial belt slings was registered. In them MEIDAI's long accumulated technology was incorporated and integrated, and the series products have enjoyed overwhelming support from the customers. The use of MEIDAI's special wide-and-thick fabrics has been expanded leaps and bounds, as its unlimited possibilities in the usual loading and unloading, transport, and the nature friendly side wall construction, etc. have been the focus of attention by companies around the world. MEIDAI then independently developed for the first time in the world the tetra-axial fabrics "Tetras®" in which two more threads diagonally cross-woven, by which far increased tear strength and measurement stability were achieved. Not just for the industrial material Tetras® has expanded its use to variety of things close to our daily life such as reinforcing agents for tennis rackets, shafts of golf clubs, seats of chairs, partitions, curtains, shoulder-pats and collars of jackets, etc. Now the use of this state-of-the-art technology has extended to motor sports and space development.
Tetras® CHARACTERISTICS
◆Break in multi phase
◆High tear resistance
◆Dimensional stability
◆High absorption and dispersion of stress
◆Possibilities for any application with any material
---
Unlimited possibilities of Tetras® featured by the comparison with bi-axial woven fabrics